Send your custom embroidered hats design and we make a sample
First, you need send us your design of the custom embroidered hats documents, with detailed requirements, such as
materials, sizes, color, woven label etc. According to these requirements, we would make a sample for you. This will normally take 5-7 days.
Of course, it's always good to send us a real sample for reference. This will take some time, but can avoid lots of communication problems or troubles later.
Sample approval and make deposit
We will send sample to you for your approval. After sample is approved, we will wait for 30%-50% from you and use these money to buy materials.
Prepare fabrics and raw materials
At this stage, we start to purchase fabrics and dying them, according to your sample color or pantone card color.
At the same time, we will start to buy other materials needed to manufacture your custom embroidered caps, such as brims, woven label etc.
Please note, there is a MOQ for dying fabrics, for examples, it's not possible to dye 200 pcs caps fabrics. Also, dying fabrics need some time. Please also read "Custom snapback hats production time?" and "What is your custom snapbacks production capacity"?
Fabric cutting
After fabrics are ready, the fabrics would be cut in factory, into 5 panels or 6 panels, or other shapes. Note: We also make Cycling Caps, Bucket Hats, Aprons; they are all in different shapes, but above mentioned processes are same.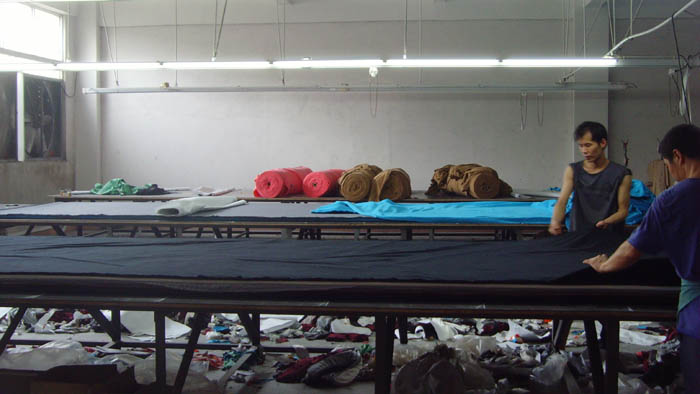 Embroidery or printing
The fabric panels would be embroidered or printed first, that's why these custom hats are called pre-embroidery baseball hats. Unlike finished blank baseball caps embroidery, this can reduce cost greatly, because it's much faster than finished blank baseball caps embroidery. Of course, we offer both 3D embroidery and plain embroidery. Another thing need to mention is Everlight Trade has an own printing factory, this can also reduce cost. Please also read "Why custom baseball caps from Everlight are competitive"?
The Manufacturing Process
Now, fabric panels are already embroidered or printed, and other materials are all ready.
After about 40 processes in Everlight Trade's baseball caps factory, the custom embroidered hats are ready to ship.
A number of these steps are accomplished by hand, or using a sewing machine. Thus, the finished products may have some quality inconsistencies. But Everlight Trade have own QC people to check quality for each order, to ensure the quality level.
Please also read "How do you control Cheap baseball caps quality?"
Pay the balance and we arrange shipment
This is the last step. But remember to communicate with our sales shipment methods in advance to ensure you can get the goods in time. Everlight Trade wish you or your customers are happy with our custom embroidered hats.